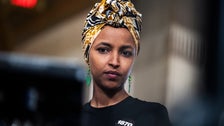 Rep. Ilhan Omar (D-Minn.) will this week introduce legislation to disapprove of a multimillion-dollar package of bombs for Israel proposed by the Biden administration, a source familiar with her plans told HuffPost ― posing the first congressional challenge to the U.S.'s policy of uninterrupted and expanding military support for Israel amid its devastating campaign in Gaza.
Omar will by Wednesday file a bill known as a "resolution of disapproval" targeting a $320 million sale of precision bombs, the source said, likely with a group of fellow Democratic lawmakers as co-sponsors. If the House of Representatives and the Senate both pass such a resolution, the administration would not be able to transfer the bombs unless President Joe Biden vetoed the bill.
A spokesperson for Omar did not immediately provide comment on her plans.
For now, there is no guarantee Omar's bill would come up for a vote: That depends on the House Foreign Affairs Committee, which would need to pass it before it is considered by the full House. Committee chairman Rep. Mike McCaul (R-Texas) and others Republicans who control the House overwhelmingly back military aid to Israel.
If a senator introduced a similar bill, however, that would set up an automatic vote in the upper chamber. Sen. Bernie Sanders (I-Vt.) used the process to force a vote on aid to Israel during the country's last large-scale campaign in Gaza, in 2021. (The Senate failed to pass Sanders' resolution.)
"It is an important statement that there are those in the U.S. who care about this issue and are not willing to simply stand by," Paul said. The bombs represent "the sort of capability Israel has been using for the last month to devastate Gaza."
This is a developing story. Please check back for updates.